TOTAL DONATED (as of 01/2020): $3,200


When you purchase a new vehicle from any of our dealerships, the Schimmer Automotive Family will make a $100.00 donation in your name to one of the following partner charities:
Charity: Water (Dedicated to bringing clean, safe water to areas across the world)
Northern IL Food Bank
Horizon House Peru
Autism Foundation of Illinois Valley
IVAR (Illinois Valley Animal Rescue)
St. Jude Children's Hospital, Memphis (in honor of Ben Bokus)
Karl's Krusaders (in honor of Karl Soliman)
Central Illinois Easter Seals
Mendota Christian Food Pantry
Mendota Special Olympics
Illinois Valley PADS (helping homeless families and individuals)
Upper Illinois Valley Relay for Life
MASS (Mendota Area Senior Services)
Abigail Women's Clinic Mendota
Mendota Optimist Club
Wounded Warriors
Nightengale's Mendota
Mendota Museum & Historical Society

Ronald McDonald House
Alzheimer's Association
Salvation Army
See a Sales Associate or Manager for any questions regarding your donation! And thank you! You are helping us give back to our wonderful community!
DONATION UPDATES

We had a lot of donations to send out, and have already delivered most of them, with more going out today, including $300 to IVAR, $300 to Illinois Valley Pads, $200 to the Autism Foundation of Illinois Valley, $300 to the Alzheimer's Association, $100 to Nightengale's of Mendota, and $100 to the Ronald McDonald House!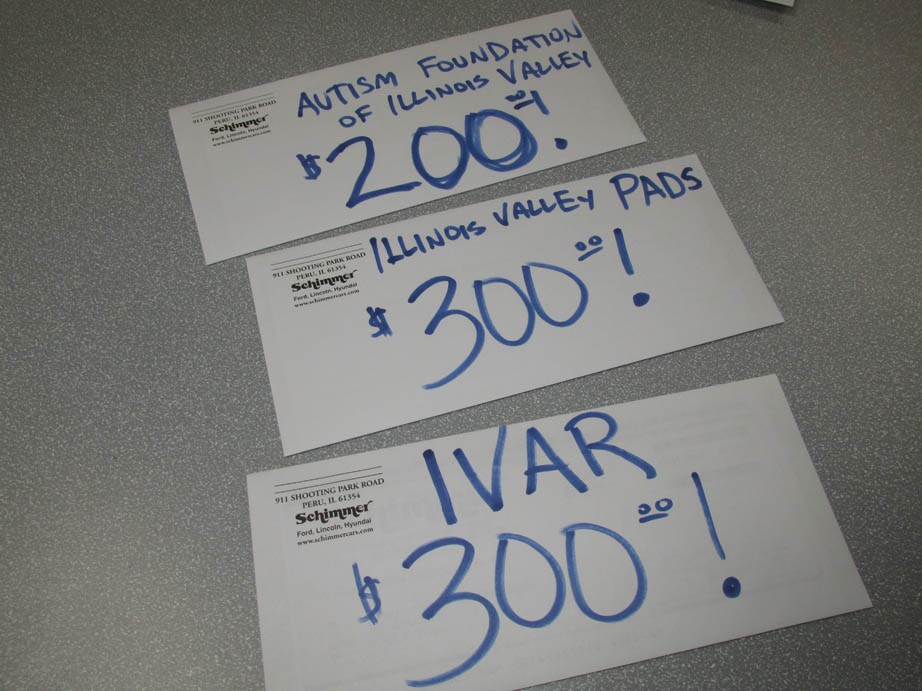 We had a great December, with a total of $3,200 in donations made! Thank you to all our new car purchasers in December! We couldn't do this without you!